Inflammation-Fighting Tea Bundle
Regular price

Sale price

$34.00
Fight inflammation naturally with these potent healing tea blends: Inflammation Relief and Turmeric Fusion!
Inflammation Relief is a soothing blend of herbs that calm inflammation and relax the nerves. Because chronic stress triggers the inflammation response in the body, we chose botanicals that address both inflammation and stress for Inflammation Relief Tea. This blend is used by people with allergies, digestive inflammation, and who are recovering from intense exercise and athletic strain.
Turmeric Fusion turmeric tea for inflammation combines anti-inflammatory powerhouse turmeric with antioxidant-rich rooibos, and other healing herbs and spices that promote relief from inflammation naturally. This amazing tea for inflammation and pain promotes mobility, blood flow, energy, focus, skin, and gut health. The herbs in this tea are also associated with anti-aging. 
For best results:
Inflammation Relief is a wonderful tea to drink in the evening, to allow your body to unwind and heal during sleep. A cup of this tea after a workout, run, or marathon, promotes recovery. Drink a cup of Inflammation Relief during times of physical, mental, or emotional stress.
Drink a warm mug of Turmeric Fusion in the morning, to power up your body naturally, without caffeine. Enjoy a cup of this tea before working out, to promote blood flow and mobility, or post-workout to relieve soreness. For digestive inflammation, drink Turmeric Fusion warm before meals.
Inflammation Relief ingredients: Tulsi* (Holy Basil), Chamomile*, Chrysanthemum*, Ginger*, Peppermint*, Orange peel*, Lavender*, Rose petals*, Calendula*  (*certified organic)
Turmeric Fusion ingredients: Rooibos*, Cardamom*, Turmeric*, Cinnamon*, Ginger,* Coriander*, Orange peel*, Fennel*, White Pepper*, Cloves, Star Anise*  (*certified organic)
Both of the teas in the Inflammation-Fighting Tea Bundle are caffeine-free
Brewing instructions are simple: Steep 1 teaspoon of the tea leaves in 1 cup (8 ounces) of hot water for 5 minutes or longer. If you're brewing tea to drink for the entire day, use 4 teaspoons in a quart of hot water.
This large stainless steel tea tumbler is perfect for tea on the go all day long
*This information has not been evaluated by the FDA, and is not intended to diagnose or cure a medical issue, or replace professional medical care. If you are pregnant or nursing, are under the care of a physician, or on prescription medication, talk to your health care provider before making any changes to your diet or routine.
Shipping

Orders ship within 1 - 3 days.

We will contact you within 24 hours in the event of a back-ordered or out of stock item.

Available carriers are in the United States are USPS, and UPS.

All international orders are processed and fulfilled with DHL or USPS; those customers living outside the US will be responsible for all duties and tariffs depending on your country of origin. Be sure to check with your local Customs Office for additional information.

We offer Route package protection during checkout for a small extra cost to protect your package from loss, theft, or damage. 
Returns

If you're not 100% satisfied with your purchase, we will, with your assistance, resolve the problem easily and quickly. We will issue your choice of a replacement, credit, or refund within 30 days of purchase. Please include a copy of your receipt with the products you wish to return.

We would appreciate a short description of the reason for return; your feedback helps us understand the needs of our valued customers.

As with all products made from agricultural produce, there may be slight variations between batches. We do our best to create consistency in flavor and leaf cut, but there may occasionally be slight variations, depending on the time of harvest, or other factors. These slight differences shouldn't be noticeable to the overall flavor and benefits of the product.

There will be no refunds or credits for custom blends or special orders. 
Share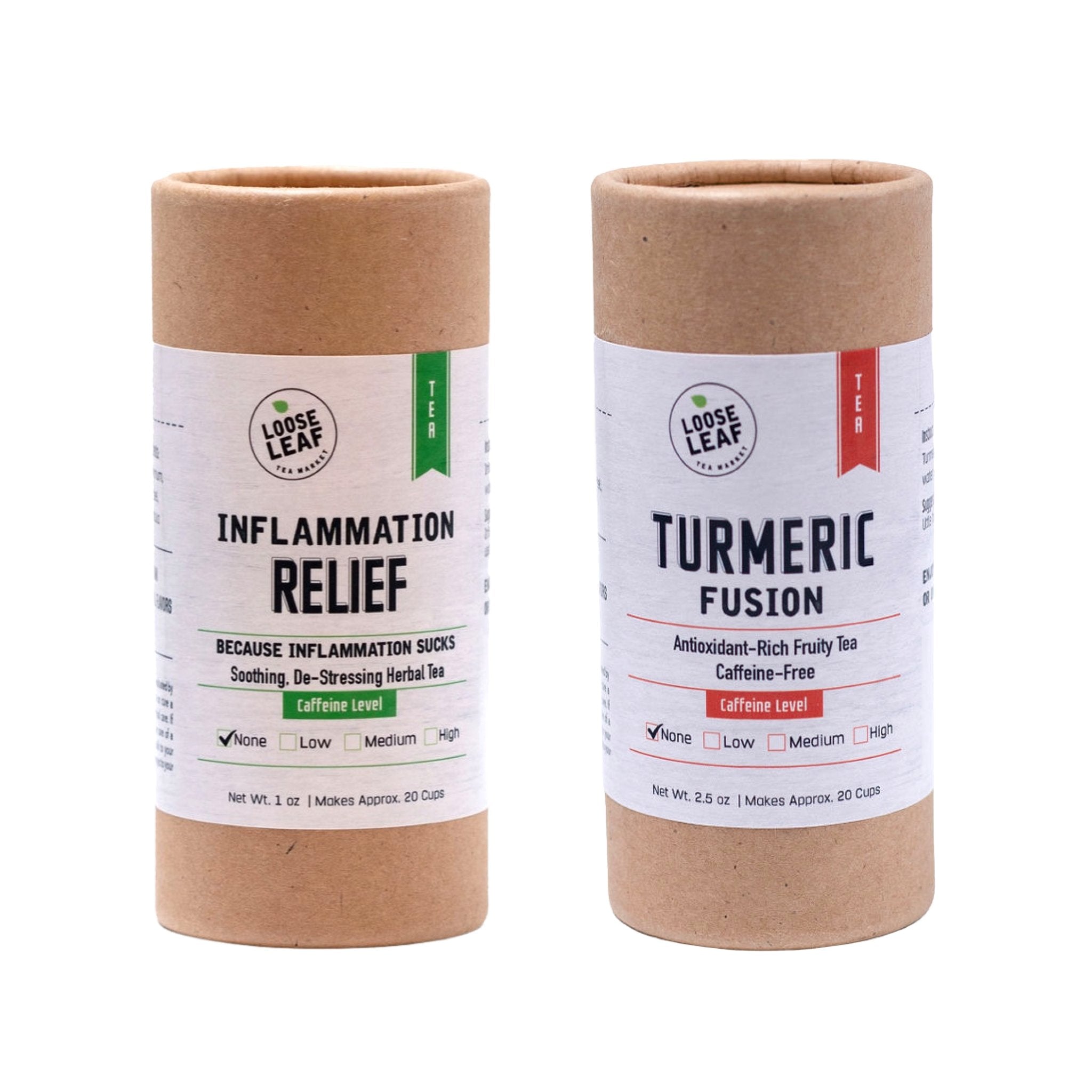 A must have!
I am in love with inflammation relief.
I crave the flavor as well as its benefits everyday. I feel a difference in my aches and pains when I drink it. It also helps with an upset tummy. I'm traveling right now and ran out while on the road. I'll plan better next time because im really missing it. Turmeric is such a warm flavor. I shared with my coworker to help her inflammation pain, and she enjoyed it over ice after steeping. She is now a customer too!
FAQs
CAN I BREW THE TEA LEAVES MORE THAN ONCE?

Yes! In fact, we encourage steeping your tea leaves more than once to explore how our teas change each time you brew them. However, we do recommend adding another minute or two to your total steep time with every new brew.
HOW LONG DOES LOOSE LEAF TEA STAY FRESH?

From the date of purchase, your loose leaf tea will be at peak freshness for a year. We are obsessed with freshness and potency, which is why we make each blend in small batches in our tea store in Phoenix, Arizona.
HOW DO I STORE MY LOOSE LEAF TEA?