Sugarproof Tea
Regular price

Sale price

$16.99
How we make it!
Herbal Tea To Kick The Sugar Habit
*Note: Due to overwhelming demand, shipping for this product may experience a delay of approximately one week. 
Sugarproof Tea is a blend of botanicals that do some remarkable things:
It blocks your ability to taste the sweet flavor for approximately 20 minutes
When drunk regularly, Sugarproof Tea will reduce your cravings for sweets
Use Sugarproof Tea in two ways.
#1 Use the tea as a pattern interruptor. When you're craving a cookie or your favorite dessert, drink a cup of Sugarproof first, making sure to swish the tea around your mouth before swallowing. Because the sweet flavor will be reduced by at least 75%, the sweet treat will no longer be enjoyable.
#2 Drink the tea on a regular basis to reduce your desire for sugary foods and drinks on a more permanent basis
Ingredients**:
Gymnema sylvestre*, Jamaica sabdariffa*, Cinnamomum lauerii*, Mentha piperita*  (*certified organic)
**Due to availability issues, tea ingredients may sometimes change. 
Caffeine levels: none
Tasting notes: pleasantly tart, with cinnamon
Brewing instructions:
Steep a teaspoon of Sugarproof Tea in a cup of hot water for 5 - 7 minutes. Do Not Sweeten! 
Swish the tea around in your mouth before swallowing to coat your tastebuds.
An excellent companion tea to Sugarproof is Sleek & Slender, an energizing tea blend that promotes healthy weight and blood sugar balance. Drink Sleek & Slender earlier in the day (Sleek & Slender contains slight caffeine) and switch to Sugarproof later in the day.
Shipping

Orders ship within 1 - 3 days.

We will contact you within 24 hours in the event of a back-ordered or out of stock item.

Available carriers are in the United States are USPS, and UPS.

All international orders are processed and fulfilled with DHL or USPS; those customers living outside the US will be responsible for all duties and tariffs depending on your country of origin. Be sure to check with your local Customs Office for additional information.

We offer Route package protection during checkout for a small extra cost to protect your package from loss, theft, or damage. 
Returns

If you're not 100% satisfied with your purchase, we will, with your assistance, resolve the problem easily and quickly. We will issue your choice of a replacement, credit, or refund within 30 days of purchase. Please include a copy of your receipt with the products you wish to return.

We would appreciate a short description of the reason for return; your feedback helps us understand the needs of our valued customers.

As with all products made from agricultural produce, there may be slight variations between batches. We do our best to create consistency in flavor and leaf cut, but there may occasionally be slight variations, depending on the time of harvest, or other factors. These slight differences shouldn't be noticeable to the overall flavor and benefits of the product.

There will be no refunds or credits for custom blends or special orders. 
Share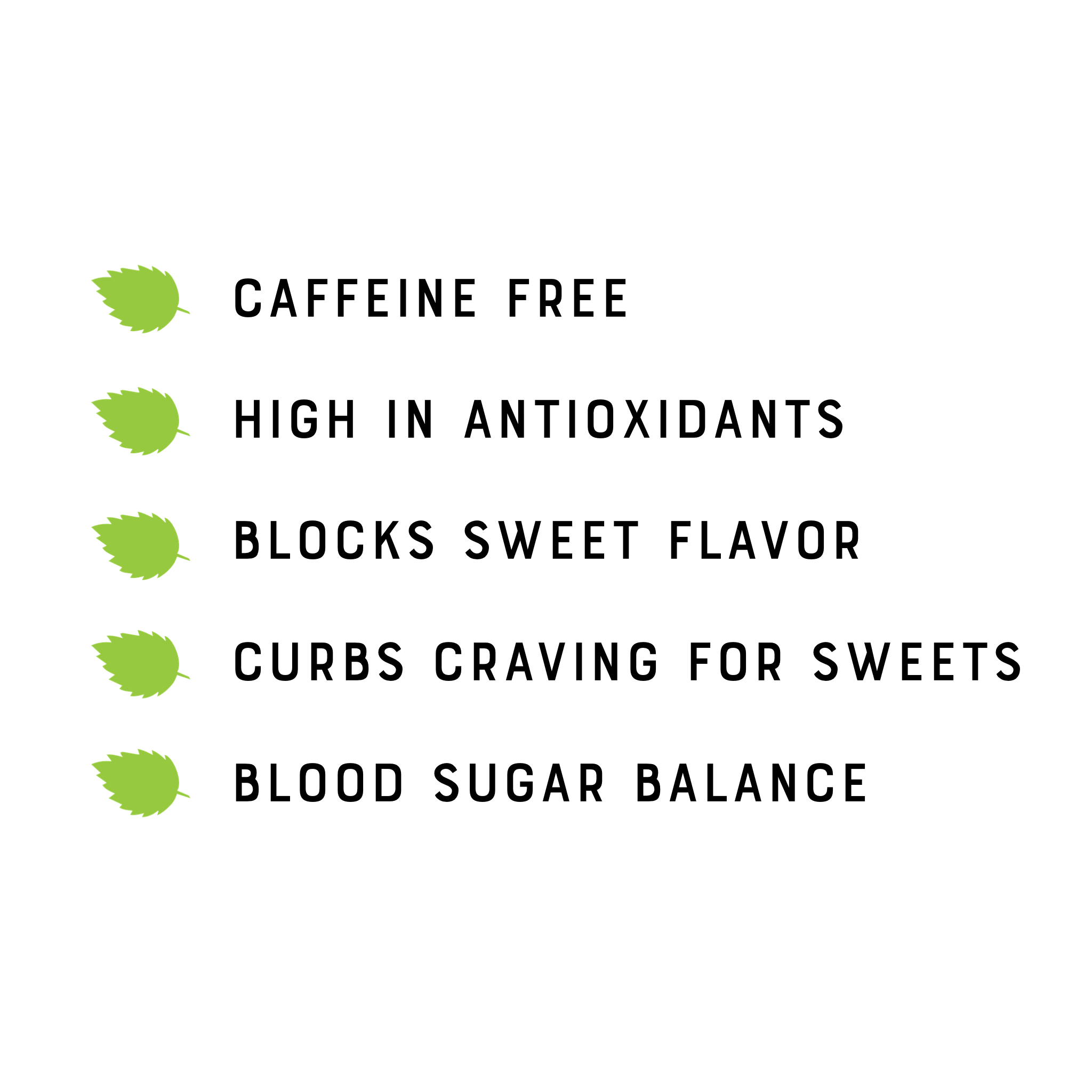 It has a wonderful flavor, I'm enjoying it.
Love This Stuff
I have always struggled with kicking my sugar habit and now that I'm forced to due to health reasons, this has been a game changer. Everytime I crave something sweet I drink some of this and it almost immediately curbs the craving and allows me to eat a healthier snack. I'm extremely happy I discovered this tea and will continue to use it.
So far it seems to help
As a sugar junky I decided it was time to be a more proactive. I am using this in the afternoon when I hit the slump and look for that sweet fix. I do love the taste and find it easy to sip on. Will be in the Phoenix area in a couple of weeks. Plan on trying to stop in the shop while I am there.
Honest Review
I hate tea…HATE it. I tried this tea because I want to quit sugar completely. I can honestly say that this tea tastes fabulous!! I can't say for certain if it helps kick the sugar habit, but I can say it's so good that I crave the tea. Never in a million years did I think I would say that "I crave tea," but this stuff is sooooo good! I highly recommend.
FAQs
CAN I BREW THE TEA LEAVES MORE THAN ONCE?

Yes! In fact, we encourage steeping your tea leaves more than once to explore how our teas change each time you brew them. However, we do recommend adding another minute or two to your total steep time with every new brew.
HOW LONG DOES LOOSE LEAF TEA STAY FRESH?

From the date of purchase, your loose leaf tea will be at peak freshness for a year. We are obsessed with freshness and potency, which is why we make each blend in small batches in our tea store in Phoenix, Arizona.
HOW DO I STORE MY LOOSE LEAF TEA?