Ginseng Green Dragon Energizing Green Tea Blend
Regular price

Sale price

$28.99
How we make it!
Sweet & earthy green tea for more youthful energy.
Ginseng Green Dragon belongs in the Tea Hall of Fame, if such a place exists. 
First, it contains Green Tea. You already know the basics: antioxidant, anti-aging, metabolic support, blood sugar balance, brain and memory support, digestive support...the list goes on. Next is Red Ginseng, a classic and ancient herb touted to restore health, vigor, and energy. And then there is Jiao Gu Lan, a South Asian herb nicknamed "the immortality herb" due to its reputation as a promoter of longevity among the people who consume it regularly. 
Drinking Green Dragon offers a fountain of potential benefits, such as (but not limited to):
Promoting youthful energy

Supporting healthy metabolism

Promoting healthy cholesterol and blood pressure

Supporting healthy blood sugar levels

Promoting mental sharpness

Promoting stress reduction
This tea is literally so good for you, you would be silly to not drink it on a regular basis. Besides, it tastes pretty darn great: smooth, slightly sweet, distinctly unique.
Try this Ginseng Green Dragon Hot, Frothy Latte Recipe.
Ingredients:
Dragonwell Green tea*, wildcrafted Jiao Gu Lan, Red Ginseng*  (certified organic)
Caffeine levels: low
Tasting notes: green, grassy, with distinctive sweetness
Brewing instructions:
Steep 1 teaspoon of Ginseng Green Dragon in a cup of hot water (170 degrees) for 90 seconds to 2 minutes. Adjust amounts and steeping times to personal preference. Make sure to reuse the leaves for a second, third, and fourth cup. Then, go forth into the world and conquer.
*Standard disclaimer: These statements have not been approved by the FDA; this tea is not intended to diagnose, treat, or cure any disease.
Shipping

Orders ship within 1 - 3 days.

We will contact you within 24 hours in the event of a back-ordered or out of stock item.

Available carriers are in the United States are USPS, and UPS.

All international orders are processed and fulfilled with DHL or USPS; those customers living outside the US will be responsible for all duties and tariffs depending on your country of origin. Be sure to check with your local Customs Office for additional information.

We offer Route package protection during checkout for a small extra cost to protect your package from loss, theft, or damage. 
Returns

If you're not 100% satisfied with your purchase, we will, with your assistance, resolve the problem easily and quickly. We will issue your choice of a replacement, credit, or refund within 30 days of purchase. Please include a copy of your receipt with the products you wish to return.

We would appreciate a short description of the reason for return; your feedback helps us understand the needs of our valued customers.

As with all products made from agricultural produce, there may be slight variations between batches. We do our best to create consistency in flavor and leaf cut, but there may occasionally be slight variations, depending on the time of harvest, or other factors. These slight differences shouldn't be noticeable to the overall flavor and benefits of the product.

There will be no refunds or credits for custom blends or special orders. 
Share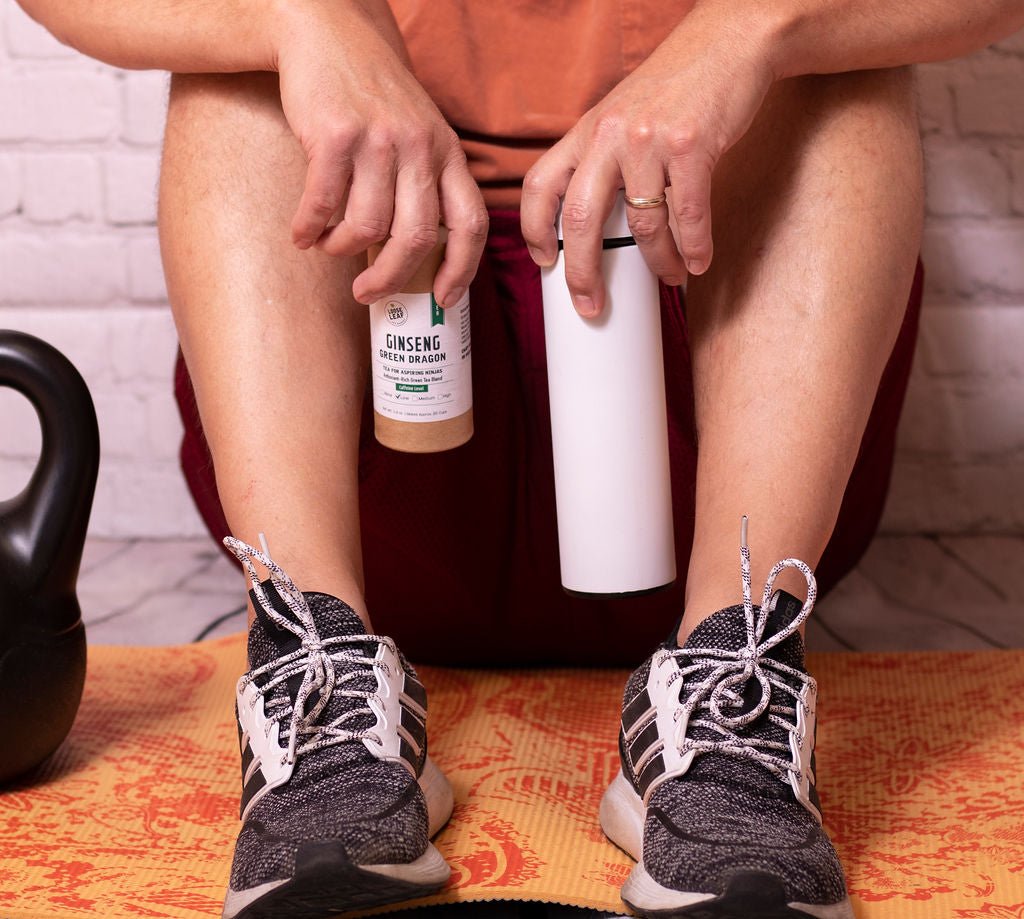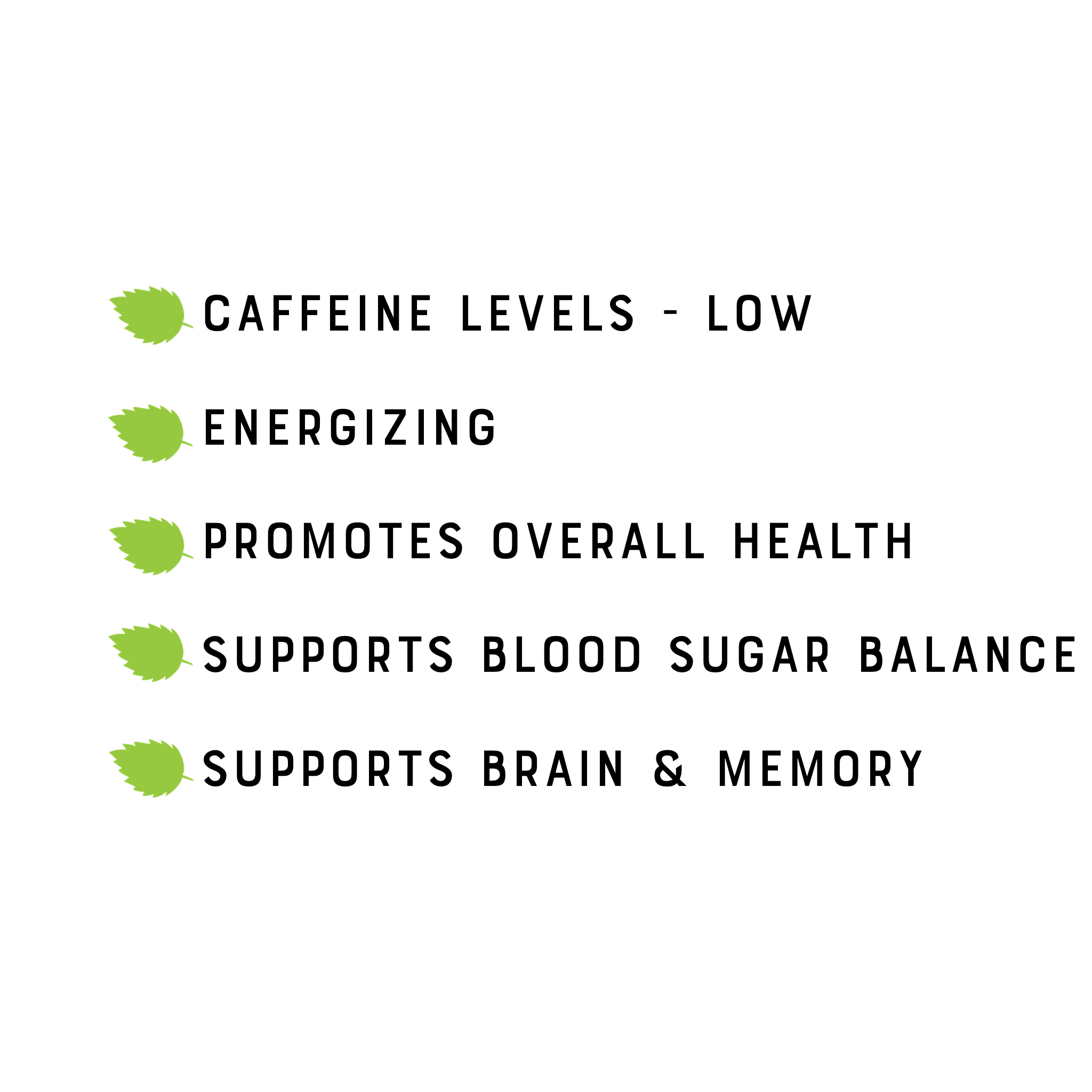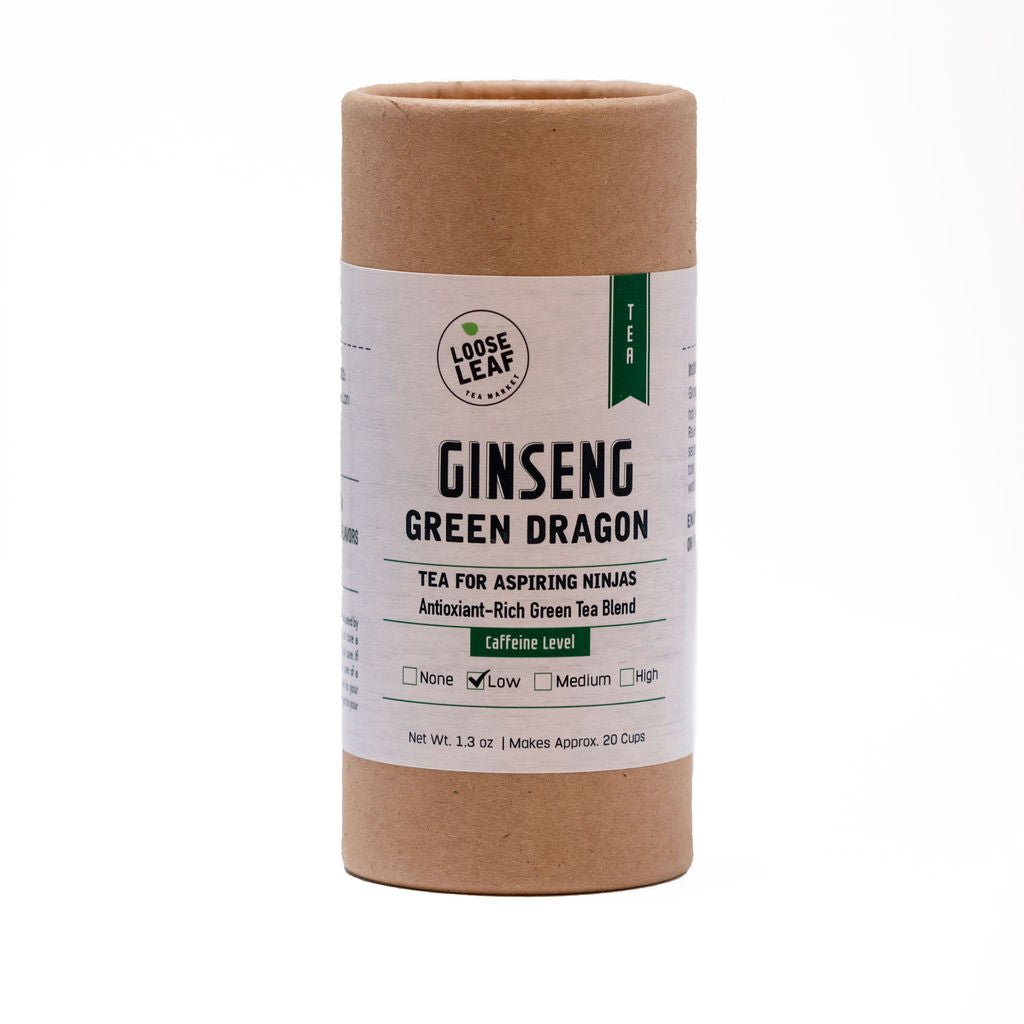 Ginseng Green Dragon Energizing Green Tea Blend
Ginseng Green Dragon Energizing Green Tea Blend is comforting. I was unsure of it when I ordered. It is the best Green Tea I have even had.
So Energizing
Ever since I started drinking this I've noticed a huge change in my energy and focus! I also love it as a preworkout since it energizes me without making me feel jittery
The quality of this tea speaks for its self. It taste so fresh.
FAQs
CAN I BREW THE TEA LEAVES MORE THAN ONCE?

Yes! In fact, we encourage steeping your tea leaves more than once to explore how our teas change each time you brew them. However, we do recommend adding another minute or two to your total steep time with every new brew.
HOW LONG DOES LOOSE LEAF TEA STAY FRESH?

From the date of purchase, your loose leaf tea will be at peak freshness for a year. We are obsessed with freshness and potency, which is why we make each blend in small batches in our tea store in Phoenix, Arizona.
HOW DO I STORE MY LOOSE LEAF TEA?